One of the first things you'll notice when you come into our office is a warm, inviting atmosphere. Our front desk staff will greet you at the door with a smile, along with a wagging tail from Scout, our therapy dog. The chairs are comfortable, and there is always a water, hot coffee, or hot tea available for you to sit down and relax with. Many of our patients love to come into their appointments a little early and just sit and relax before coming back with Dr. Brett.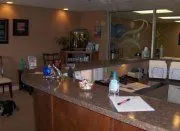 We have a select choice of nutritional products that will enhance your health and care in our office. We currently carry lines from Anabolic Labs, Lyflo, Biofreeze, and hyalogic. Don't forget to say hi to the fish!
As you continue into our office, you will find two areas for therapy / rehab.
One area has passive therapies that are primarily used for pain control and muscle spasms. These therapies include Electrical Muscle Stimulation, Ulatrasound, Cold / Hot packs, and Intersegmental Traction.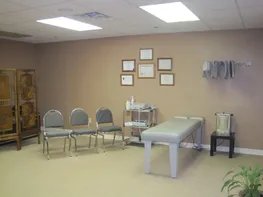 The other area is for active rehabilitation, these are exercises that are done in our office to enhance, speed up, and solidify the gains that we receive from Chiropractic Care. Exercises in this area may be done on balance boards, balls, or using bands for strengthening.
As we continue through the office, we have three treatment rooms. One is a massage room, darker and warm to enhance your Massage or Acupuncture treatment. The other two contain state of the art Chiropractic Tables. There is plenty of room for your spouse, child, or significant other to be in the room while receiving treatment if you so wish.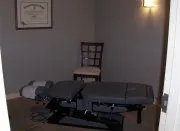 The last treatment room is an examination room. Here is where we will perform your examination or re-examinations. A complete Musculoskeletal exam, Orthopedic and Neurological exam will be completed. In many cases, we may utilize the Footlevelers Associate Platinum to evaluate your foot biomechanics. We also have the J-Tech, Computerized Muscle Testing and Range of Motion system that is used in some cases for evaluation.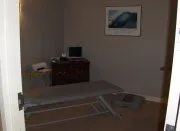 We also have a room for your consultation / report of findings. In this room you will find comfortable chairs and a warm, inviting "library" type feel where Dr. Brett will discuss your problems, and explain to you everything you need to know about your upcoming care program.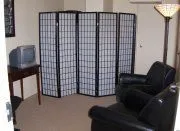 Lastly, is a full radiology suite. At Performance Chiropractic, we feel that the proper tools are necessary to fully evaluate your condition. We have a High-frequency x-ray machine that will expose you to less radiation than you receive from the flourescent bulbs right above. We also have a radiological table that can be used when taking pictures of extremities, or when a patient can't stand for x-rays. We also do all of our film processing right on site.