At Performance Chiropractic, we take great pride in providing the finest chiropractic wellness care to our patients. Below is a sampling of the different chiropractic services we offer in our Olathe office.
---
Chiropractic Care
Acupuncture
Massage Therapy
Corrective Exercises
Lifestyle Advice
Nutritional Counseling
Spinal & Postural Screenings
Physiotherapy
Auto Accidents
Outreach Talks
---
Chiropractic Care
We provide advanced spinal correction utilizing "state of the art" chiropractic techniques. Never in the history of chiropractic have we been able to provide the level of help and expertise that now exists. These newer correction methods are even safer, more comfortable and more effective than ever before. As a Doctor of Chiropractic, Dr. Brett has years of training and experience in spinal adjustment.
---
Acupuncture
The ancient Chinese believed that there is a universal life energy called Chi or Qi present in every living creature. This energy is said to circulate throughout the body along specific pathways that are called meridians. As long as this energy flows freely throughout the meridians, health is maintained, but once the flow of energy is blocked, the system is disrupted and pain and illness occur. Imagine rivers that flood and cause disasters or an electrical grid short-circuiting that causes blackouts. Acupuncture works to "re-program" and restore normal functions by stimulating certain oints on the meridians in order to free up the Chi energy. Dr. Brett can utilize Acupuncture by itself, or along with your Chiropractic treatment in order to increase the effectiveness of Chiropractic alone.
---
Massage Therapy
Massage Therapy is a great adjunct to chiropractic care. It can relieve tension and stress, and relieve trigger points and other adhesions in the muscle that is effecting your chiropractic care. At Performance Chiropractic, we have a Doctor Managed Massage program that can make it very affordable to receive both chiropractic care and massage therapy for the ultimate experience in wellness.
---
Corrective Exercises
We teach our patients special "blueprint" exercises designed just for them to help strengthen and correct their own unique problem. These exercises can be performed in the comfort of your own home and can improve the effectiveness of your spinal correction by as much as 30-40%. In addition to skeletal misalignment, muscles and connective tissues can be out of place or strained by improper alignment and use. Specific exercises and stretches can help your body stay in balance and in health.
---
Lifestyle Advice
We often find it helpful to "coach" our patients on certain activities they should avoid or do differently to avoid aggravating their particular health challenge. Our goal is to help every patient achieve a fulfilling and happy lifestyle full of the activities they enjoy most. We recognize that each our patient is a whole person, and help them reach true health and wellness is a collaborate effort between our professionals and our patients.
---
Nutritional Counseling
We provide specific recommendations on nutritional supplements and healthy food choices to enhance our patient´s return to optimal health. Do you know which supplements and vitamins are good for youDr. Brett can provide a structured nutritional program based on your individual needs.
---
Spinal & Postural Screenings
Posture and spinal screenings can reveal important health information and unlock the door to improved health and well-being. We provide screenings at area malls, community events, health fairs and places of employment. Contact us today to arrange a screening at your event or workplace.
---
Physiotherapy
To complement and enhance the healing effects of Dr. Brett specific Chiropractic adjustment treatment, we at Performance Chiropractic also provide the following physiological therapeutic procedures:
Ultrasound
Interferential electrical muscle stimulation
Microamperage neural stimulation
Mechanical traction
Cryotherapy
Moist heat therapy
Rehabilitative Exercise
Work hardening rehabilitation program
---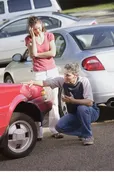 Auto Accidents
Automobile accidents are very common, but most people don't think that a 20 mph rear end collision can hurt them. Your body can feel the effects of as little as 8 mph collisions. You need to make sure that your spine is still in correct alignment, allowing your body to function correctly. Many people don't feel the effects until 6 months to a year later. It is at that time, that headaches, low back pain or extremity pain occurs. In almost every case, your Auto Insurance will pay for your care. Dr. Brett has had many Auto cases and works to get you out of pain quickly, while making sure that your pain will not come back.
---

Outreach Talks
Dr. Brett provides talks for organizations throughout the Kansas City area as apart of our Community Outreach program that we have developed for our office. These topics are there to educate you on natural ways of taking care of your body through Exercise, Nutrition, Chiropractic care and lifestyle. Please call our office to set up a free lecture for your Church group, Women's organization, Office or any other group you are involved in. Some of these topics include:
Backpack safety
Laughter Workshop (de-stress)
Intro to Chiropractic
Ergonomics Workshop
Fibromyalgia
Sports Talk (Chiropractic and Sports Enhancement)
Hormone Replacement (Women's Health)
Pressure Point Therapy
Stress Management for Couples
ADD
Asthma
Boosting your Immune System
Carpal Tunnel
Headaches
Sports Performance
Women's Health
Nutritional Workshops (Most of these are 30-60 minutes)
Anti-Aging
Diabetes
Digestion
F.I.T.N.E.S.S. (Focused Intense Thought, Nutrition, Exercise, Specific Suplementation)
Free Radicles
Heart Disease
Osteoporosis
Pain Control
Vaccine Lecture